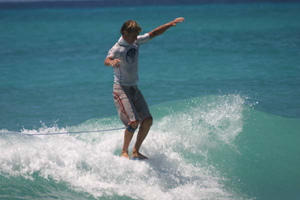 British Longboard coaching weekends
121Surfcoach
Chris Thomson

Extreme Academy
On the beach
Watergate Bay,,
Cornwall,

Phone: 07966 259839
Email Us
Website: http://www.britishboardriders.com
121 Surf Coach offers surf lessons for the individual, from complete beginner though to contest standard.
We start when you want and surf where the best surf is on that day. The joy of not being tied in a big group.
You will learn more in less time as you personal coach gives you undivided attention, the lesson is relevant to YOU and no one else.
If you are a family, a couple or small group than we can organise your personal surf days out, again with you being the only people in the group
121 Surf Coach instructors are fully experienced, qualified (BSA, NARS and more) and motivated.

Longboard weekend
121 Surf Coach
@
Watergate bay
Hosted by the Extreme Academy
9th and 10th October 2004
The two-day course will cover surfing technique, Fitness in surfing, Board design, IPS in Surfing, Surfing psychology, Oceanography and more.
This course is aimed at surfers on boards over 8' with a thirst for knowledge, equipment can be arranged.
Led by Chris Thomson one of the UK's top professional longboarders and long time surf coach.
Numbers are limited in keeping with 121 Surf Coach's philosophy of not teaching big groups; first come first served the cost of the two-day course is £100.
More dates for 2005 keep checking our website.

Our category listings:
Surfing : 2 - Surfing Clubs and Associations
Surfing : 3 - Surfing Equipment Suppliers/Retailers
Surfing : 4 - Surfing Facilities & Approved Schools
Surfing : 4 - Surfing Facilities & Approved Schools
Surfing : 5 - Surfing Coaching and Education
Surfing : 7 - Surfing Videos