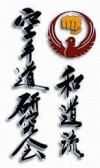 Wadoryu Karatedo Kenkyukai
Area: PLYMOUTH
Renshi
Graham Chuck

c/o 5 Meadway
saltash,
Cornwall,
PL12 4NU
England
Phone: 07956 963223
Email Us
Website: http://www.geocities.com/wadoryukaratedokenkyukai
We are a small association teaching traditional Wadoryu in Plymouth Devon and Gunnislake Cornwall.

We began on the 23rd September 1996 in order to practise the style of Karate founded by Otsuka Hironori in 1939. Training consists of Kihon waza (basic techniques), Renraku waza (combinations), Kata (forms), Yakosoku Ippon & Kihon Gumite (pre-arranged fighting techniques) and Ji-yu Gumite (free sparring-non contact). Correct etiquette and discipline are predominant in order to ensure good character development, respect and safe conduct in the Dojo.
All are welcome, whether you are a beginner or have trained in Karate or Martial arts before. Juniors are from age 8 upwards. Beginners are taught Dojo procedure (club rules and behaviour), the fundamental principles of movement of Wado-ryu and the techniques required for their first grading. Higher graded students are shown more progressive movement, advanced techniques and application. A strict code of Martial art ethics and morality is adhered to and taught to ensure proper understanding of what is being learnt within the Dojo. We are an independent club with no political affiliations. We are members of Alliance International Wadoryu (AIWA) which gives us affiliation and access to Wadokai England and JKF Wadokai as well as insurance which includes personal accident cover and indemnity. The instructors at our Dojo have personal indemnity cover and are fully qualified, first aid trained and have undergone police checks.
We encourage training in other Martial arts and attend many courses to learn Wado-ryu and other disciplines and styles.
The principal theory of Wado-ryu is to avoid confrontation and to foster harmony and understanding amongst humanity.
There is so much to learn. However, the longest journey begins with the first step - are you ready to travel the path?

Our category listings:
Karate : Clubs and Associations
Karate : Coaching