Photos 2008/09
Scottish Football Association chief executive Gordon Smith pictured with the Scottish Amateur Cup (left) and the Scottish Amateur Sunday Trophy. Both competitions are sponsored by Foster's this season. Gordon drew the 3rd round of both competitions at Hampden Park on Tuesday 21st October with Saints getting a home tie against Rosyth Civil Service which was played on Saturday 1st November. Saints won the game 2-1.
Photo by Stuart Fraser who attended the draw.
Some action shots taken by Frank Robertson during the Greenock HSFP v Oban Saints match played on the astro grass pitch at Battery Park, Greenock, on Saturday 23rd August 2008. Greenock won a close-fought match 2-1 in an excellent advert for the Umbro Scottish Amateur Football League.
Greenock win the ball in midfield
The Greenock strikers surge forward in the first half
Saints midfielder Ross Maitland lines up a free kick during the first half
Dante Lopez covers a Greenock short corner
Greenock defender Craig MacLaren strides out of defence chased by Darin Bryars
A worried looking Greenock bench look on as Saints put sustained pressure on the home side during the second half
Myles McAuley lines up a free kick in the second half which leads to the Saints goal.
---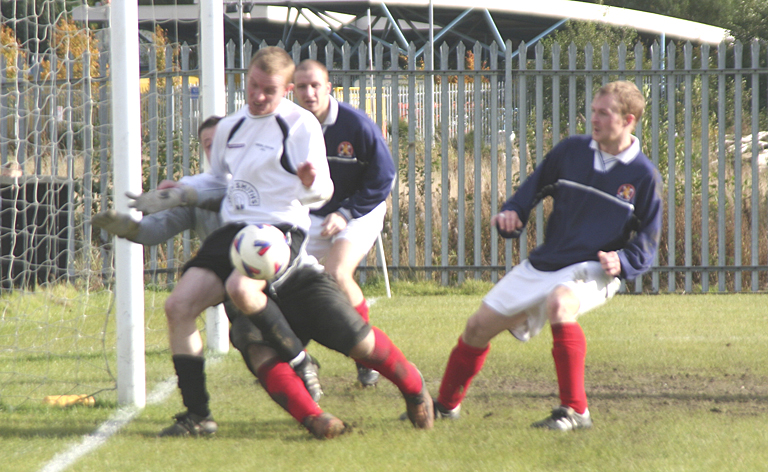 No way through for Central League striker Lloyd Callander (Eddlewood) as he's crowded out by SAFL keeper Chris Lamb (Busby), Scott McAuslin (Duncanrig) and Keith Millar (Oban Saints).

The SAFL took a two goal lead with a double from Paul McWhirter (Campbeltown Pupils), in this John Smith's Inter League Trophy match played at Brandon Park, Bellshill on Sunday 12th October, 2008. The Central League replied with goals from Nicky Reid (2) and Kevin Haldane before the interval to make the score 3-2 The Scottish side played well in the second half and dominated play for long periods and should have equalised, when they were awarded a penalty but Paul McWhirter's spot kick was saved by keeper David McKegney and Central held out to win a very entertaining match by the odd goal in five. The other Oban Saints players in the SAFL squad were Myles McAuley and Dante Lopez. The next game for the Scottish side is against Ayrshire and will be held on November 9 at Northolm Park, Giffnock.
Photos: Chris McAllister and John Rodgers
Eye on the ball - Myles McAuley (Oban Saints) ready to bring the ball down and start another Scottish attack.
Scottish central defender Sinclair Patience (Cambria) gets a tackle in.
James McClure (Greenock HSFP) takes on this Central League midfielder
Scottish keeper Chris Lamb (Busby) saves at the feet of the onrushing Central League striker
Dante Lopez (Oban Saints) faces up to his opponent during the second half of the match
---
Myles McAuley forces his way into the Symington penalty area during the West of Scotland Cup match held at Mossfield Stadium, Oban, on Saturday 18th October, 2008. Saints had a comfortable 8-0 victory over their
Ayrshire opponents with goals from Darin Bryars (4), Sean Ford (3) and Donald Campbell.
Photos: Marian Miller, The Oban Times
This Symington defender clears his lines
Symington keeper Chris Taylor grabs the ball with Saints forwards Darin Bryars and Donald Campbell ready to pounce on any mistake
Sean Ford heads the ball back across the face of the goals
Darin Bryars just fails to reach this cross
---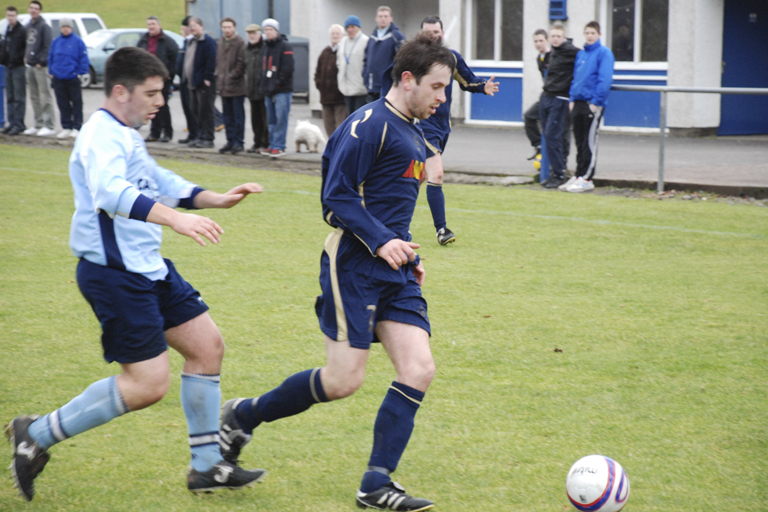 Joe Lopez shields the ball from Carrick defender Ross Murchie during the Foster's Scottish Amateur Cup 6th round tie at Mossfield Stadium on Saturday 14th February, 2009. Saints won the match 2-1.
Photos: Euan Paterson, The Oban Times
Saints striker Allan MacKay is tackled by a Carrick defender
The Carrick defence clear ther lines.
Donald Campbell races into the Carrick penalty area.
---
Action from the Foster's Scottish Amateur Cup 7th round tie between Oban Saints and Bellshill Derby played on the Community Pitch at Oban High School on Saturday 7th March, 2009. Saints won the game 5-1 thanks to goals from Allan MacKay (2), Donald Campbell, Willie Gemmell and Joe Lopez. This win put Saints into the quarter finals for the second time in three years.
Photos: Louise Glen-Lee - The Oban Times
Saints midfielder Ross Graham (No 5) gets a tackle in on Bellshill's Mark Mulvanney. Also in the picture are Bellshill players David Roy and James McAuley and Ross's brother Jamie.
Saints put the pressure on at a corner
Bellshill's David Roy clears this corner watched by Saints players Joe Lopez, Donald Campbell and Myles McAuley.
---
The Oban Saints first team squad 2008-09 - Back Row (L to R) Peter MacCallum (coach), Colin Carswell, Allan MacKay, Myles McAuley, Donald Campbell, Craig MacEwan, Joe Lopez, Duncan Campbell, Dante Lopez, Craig Campbell, Bertie Gemmell (captain), Iain Jackson (manager). Front Row (L to R) Jamie Graham, David Dunlop,
Sean Ford, Ross Maitland, Keith Milar, Darin Bryars, Willie Gemmell, Graham Douglas and Ross Graham.
---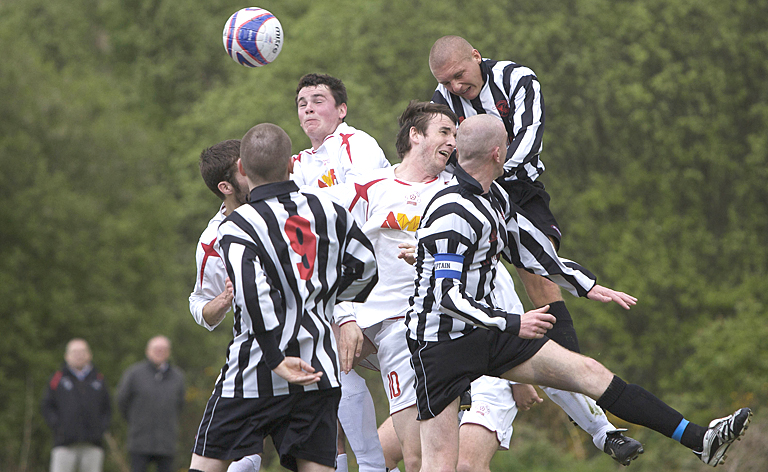 Heads you win - three against three - Oban Saints players (white jerseys) - Jamie Graham, Allan MacKay and Willie Gemmell challege for the ball with Pollok's Gary McKenna, Gary Sherridan and Grant Fleming during the SAFL Premier Division league match held at Glencruitten Park, Oban, on Saturday 16th May, 2009. An entertaining
game ended in a 1-1 draw. Photos: John MacTavish.
Saints strikers Craig MacEwan and Allan MacKay are crowded out by the Pollok defenders.
Where's the ball gone! Pollok skipper Gary Sherridan and Allan MacKay seem to have lost the flight of the ball, but Craig MacEwan knows where it is and is ready to pounce.
Scottish Cup comes to Oban
Oban Saints Boys player Lewis Buchanan holds aloft the Homecoming Scottish Cup which was paraded at the Easter Football Festival held by the Scottish Football Association and Argyll and Bute Council's Football
Development Officer Dylan Kerr at Oban Community Pitch on 14th, 15th and 16th April, 2009.
The festival was a great success with 60 youngsters taking part.
NEW LADIES TEAM LAUNCHED BY OBAN SAINTS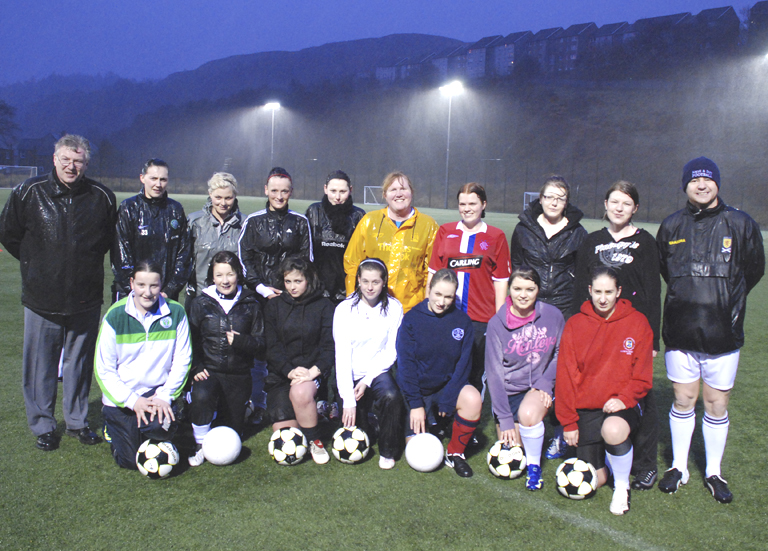 The new Oban Saints Ladies team pictured with club secretary David Buchanan and Argyll and Bute Football Development Officer Dylan Kerr, who took their first training session on Wednesday 11th March, 2009, in
horrendous weather conditions at the Oban High School community pitch.
Photos: Louise Glen-Lee, The Oban Times.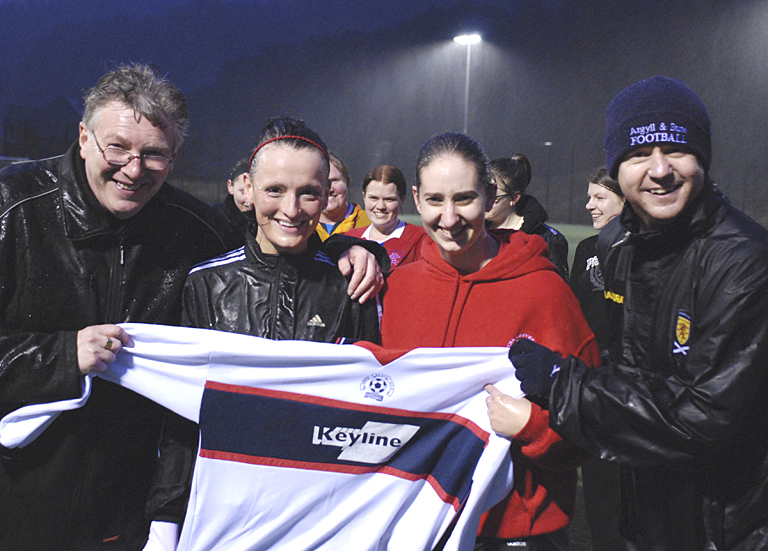 David Buchanan and Dylan Kerr present Sara Lopez and Lynsey MacKenzie with a set of strips.
David Buchanan and Dylan Kerr hold up the SFA Youth Football Banner. Oban Saints have obtained the SFA Standard Club Quality Mark and are striving hard to get the next award - Development Club - and starting a ladies team will help them achieve this objective. Oban Saints would like to make it clear the ladies team will
not be called 'Dylan's Dollies'.
Saints youngsters pick up the silverware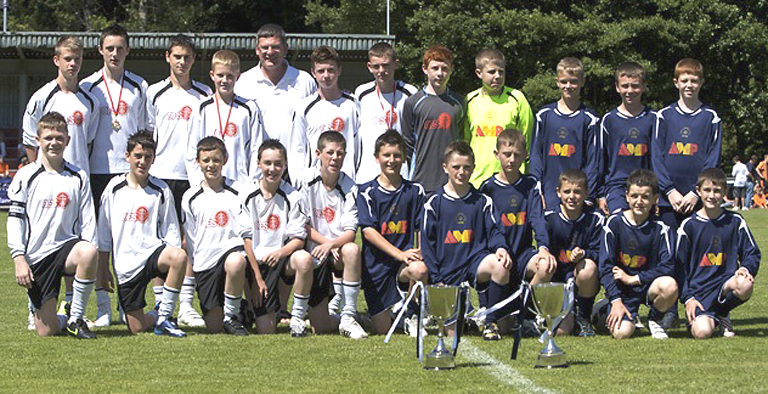 Oban Saints Under 14s and Under 13s pictured with Dundee United manager Craig Levein who presented them with their Dumbarton Development League championship trophies during the Keyline Cup Tournament.
Photo: John MacTavish

More photos of the Keyline and AMP Tournaments on the Cup Competitions Section of this website
Craig Levein congratulates Oban Saints Under 14 captain Chris MacMillan who holds aloft the Dumbarton Development League championship trophy