Photos 2010/11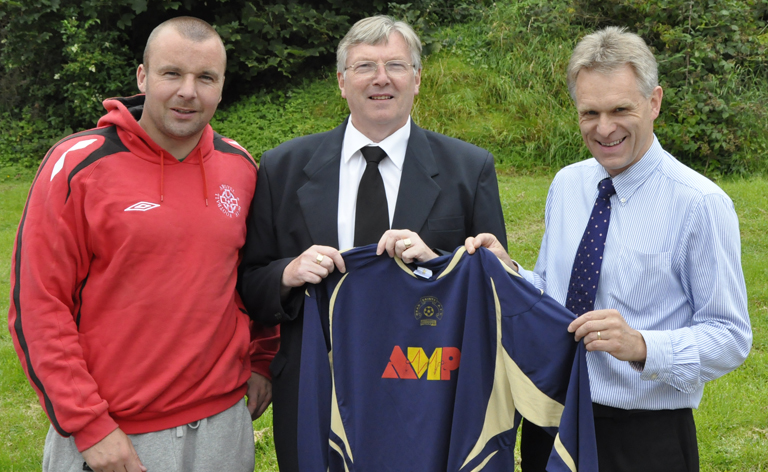 Oban Saints gifted a full set of strips to Neil Matheson from 'Friends of Pebane' who is leaving on an aid mission to Mozambique. Pebane is a remote area with very few people having the basic essentials in life. 90 per cent do not have electricity so Neil is
taking solar panels as well as basic medical essentials. The people in the area are mad keen on football and the new set
of strips will be well received. Argyll and Bute Council's football development department also donated footballs
and training equipment to go along with the strips. Pictured is Martin Rae, Argyll and Bute Council's football
development officer, David Buchanan, secretary of Oban Saints and Neil Matheson.
Photo: Louise Lee, The Oban Times
Left: Greenock skipper Craig McLaren holds off Saints striker Allan MacKay. Right:: Craig McLaren tries to block this shot from Donald Campbell during the Premier Division league match held in Oban on Saturday 13th November. Saints won the game 3-1.
Photos: Euan Paterson, The Oban Times
Left: Willie Gemmell tries his luck. Right: Donald Campbell volleys this effort goalwards.
Left: Donald Campbell gets a shot on taret despite the close attention of Greenock defenders Craig McLaren, Brendan Doyle and Chris McAllister. Right: Sean Jamieson blocks this cross from Willie Gemmell.
If you kept your eyes open lads you would know where the ball is!!!
Left: Craig MacEwan takes on Chris McAllister. Right: A delighted Saints manager Iain Jackson.
---
Craig MacEwan takes on the Castlemilk defence with Allan MacKay waiting to help out during the premier division league match held at Glencruitten on Saturday 30th October 2010. Saints won a close match 2-1
Craig MacEwan tries to make headway up the touchline.
Ross Maitland and Keith Millar have possession in midfield.
Allan MacKay heads for goal, but this effort went over the bar.
Ross Maitland looks to pass the ball in midfield.
A last ditch tackle stops Craig MacEwan as he tries to get a shot on target.
Players from both sides wait for this Saints corner to be delivered.
Ross Maitland, Chris Graham and Allan MacKay in the Castlemilk box
Oban Saints AFC have been awarded the Scottish Football Association
COMMUNITY CLUB QUALITY MARK
the first club in the West Region to reach this standard

Congratulations to everybody at the club for achieving this top award
Oban Saints were presented with the top award of Community Club in the Scottish Football Association's Quality Mark scheme at an awards ceremony held at Hampden Park, Glasgow on Thursday 25th November, 2010.
Pictured above are club secretary David Buchanan, Martin Rae, Argyll and Bute Council football
development offiicer and first team manager Iain Jackson with the Community Club Quality
Mark Flag. The Scottish Cup is featured in the foreground.
Photo: Trevor Thomson, The Scottish Football Association
With the whole of the Scottish Amateur League programme was wiped out for the third week in a row due to snow covered pitches and hard frost. Oban Saints and Tarbert managed to arrange a friendly match on the 3g pitch at Oban High School on Saturday 11th December 2010 which had thawed out just in time to allow the game to go ahead. Our picture shows Tarbert's Conner Crawford (left) and Craig MacEwan challenge for the ball in midfield. Saints won this game 8-0. Photos: Euan Paterson, The Oban Times
Allan MacKay waits for the ball, but it's cut out by a Tarbert defender.
Keith Millar takes the penalty that should have put Saints 5-0 in front, but his poorly taken spot kick was saved by Tarbert keeper John Martin.
Craig MacEwan crosses the ball for his side's third goal.
James McMillan gets a tackle in on Tarbert midfielder Duncan MacDougall.
---
Oban Saints Football Club are the Atlantis Leisure

TEAM OF THE YEAR 2010
Club secretary David Buchanan and team manager Iain Jackson with the Atlantis Leisure 'Team of the Year ' trophy which was presented to the club at an award ceremony held in Atlantis Leisure on Sunday 14th November 2010.
Photo: Euan Paterson, The Oban Times
---
Oban Saints Football Club and the Scottish Football Association hosted a coach in-service session for Quality Mark Clubs at Oban Community Pitch on Monday 1st November, 2010. The weather was atrocious with driving wind and heavy rain, but around 40 coaches from Oban Saints and Lochgilphead Soccer Centre attended the session taken by the SFAs West Region Club Development Manager Danny Bisland, Brian McLaughlin, the former Celtic winger who is the West Region's Coach and Player Development Officer and Martin Rae, the Argyll and Bute Council Football Development Officer. Children from the club's youth teams acted as 'runners' for the evening.
Photo: Euan Paterson, The Oban Times
---
Visiting keeper Daniel Cassells, a former Oban Saints player, watches on as Saints midfielder Chris Graham takes on Cambria full back Neil Hardie during the 1-1 draw between the teams at Glencruitten on Saturday 2nd April 2011. Photos: Stuart Laundy, The Oban Times
Cambria's Brian Robertson gets a header in, but it never bothered the Saints goalkeeper.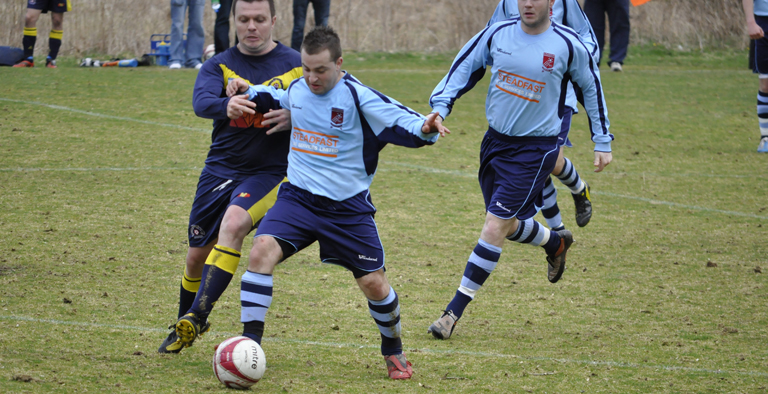 Saints Bulgarian striker Asen Gaydardzhiev in a tussle for the ball with Elis Seferi.
Willie Gemmell prepares to fire a free kick round the Cambria wall.
Keith Millar gets his head to this corner, but the effort was cleared.
Jamie Graham, Willie Gemmell and Alex Craik crowd out Cambria's Brian Robertson as he comes in for a header.
---
Saints Bulgarain striker Asen Gaydardshiev challenges for this header with John Gaynor during the league game against Aikenhead Thistle played at Glencruitten on Saturday 23rd April, 2011. The Glasgow side won a close game 2-1. Photos: Steven Flanagan, The Oban Times and Peter Darling.
Ross Maitland fires this free kick round the Aikenhead wall.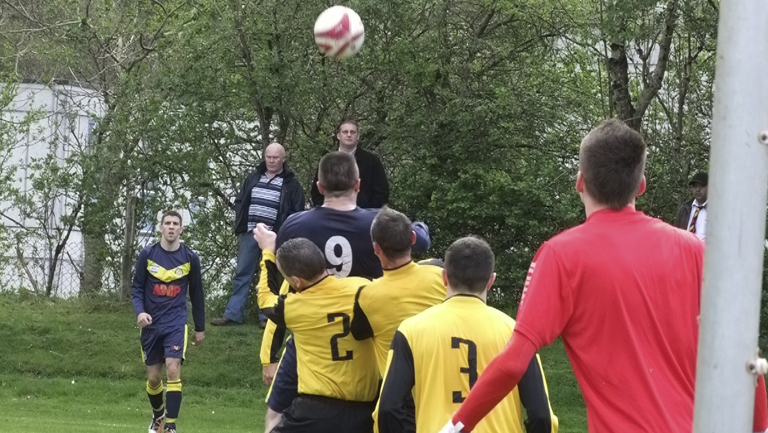 Asen head flicks this throw-in from Donald Campbell into the Thistle box
Dene Cassells and Kevin Mooney challenge for the ball in midfield.
Keith Millar and Lee Harvey tussle for the ball with Jamie Graham in the background.
Donald Campbell whips the ball across the face of the Aikenhead six-yard box.
Dene Cassells is surrounded by five Thistle players as he drives into the penalty box.
Keith Millar gets a shot on goals
Aikenhead keeper John Mullen saves from Dene Cassells
Craig MacEwan (No 10) scores Saints goal against Aikenhead