McDonald's Awards
Top award for Oban Saints secretary
Oban Saints club secretary Davie Buchanan was honoured with a top award at Hampden Park on Thursday 3rd February. He was presented with the McDonald's / Sunday Mail 'Best Volunteer in Adult Football' award from Scotland, Celtic and Liverpool legend Kenny Dalglish along with Scotland manager Craig Levein.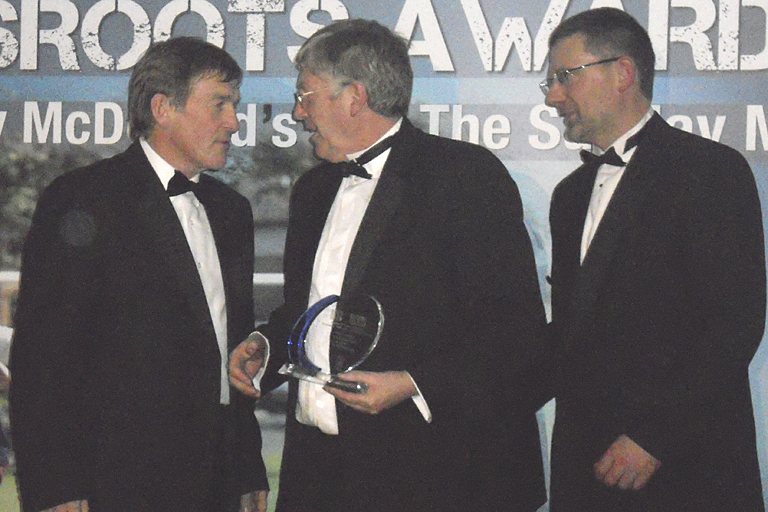 Davie asks Kenny if he'll send a Liverpool team up to Oban for the Keyline Cup Tournament in the summer.
Watch out the Saints boys are about - Thomas Sharp and Iain Jackson congratulate Davie on his award.
Davie has a chat with Scotland manager Craig Levein and Bruce Waddell, Editor-in Chief of the Daily Record and Sunday Mail who were co-hosting the awards with McDonald's and the Scottish Football Association.
Davie makes his acceptance speech at the awards ceremony at Hampden.
All the award winners pictured with Kenny and Craig after the ceremony.

Iain Jackson has a tactical discussion with Craig Levein regarding formations. Should it be 4-4-2, 3-5-2
or the dreaded 3-4-3.
Argyll and Bute Council's Principal Leisure Officer Willie Young has a chat with Scotland boss Craig Levein.
BBC sports presenter Chis Hollins, winner of Strictly Come Dancing was staying in the same hotel as the Oban lads and he gets a few new fancy dance tips from Iain Jackson