Photos 2011/12
The Oban Saints squad for season 2011-2012 pictured in their new away kit sponsored by AMP Electrical Services. Back Row (L to R) David Buchanan (secretary), Iain Jackson (manager), Martin MacPherson, Donald Campbell, Alan Miller, Myles McAuley, Graham Douglas, Willie Gemmell, Jamie Graham, Alex Craik, Steven MacLeod, Peter MacCallum (coach), Angus MacPhee (sponsor). Front Row (L to R) Asen Gaydardzhiev, Ryan Campbell, Paul Kerr, Lewis Cameron, Ross Maitland, Keith Millar, Chris Graham, Sean Ford, Steven MacCracken.
Missing from the photo - Keith MacCallum, Craig MacEwan, Marc MacCallum, Allan MacKay, Innes Paterson, Dene Cassells, Peter Sinclair, Robert Johnson and Kieran MacInnes. Photo: Scott Buchanan.
---
Oban Saints took delivery of a new minibus thanks to the SFA West Region and the Scottish Football Partnership. The bus will be used to transport the club's many teams to away games. Club secretary David Buchanan said:
'The bus will be a great benefit to the club as travel costs are rising all the time'. The bus has the Scottish
Football Partnership and the SFA Community Club Quality Mark logos on the side as well as main club sponsor
AMP Electrical Services, Keyline Builders Merchants, Aulay's Bar and Eric Smith World Travel logos.
Photo: Angus MacPhee
Argyll and Bute Football Development Officer Martin Rae with his assistant Derek Millar are pictured with youth coaches from Oban Saints who have been sitting their Scottish Football Association Level 3 - Coaching in the
Game Certificate held at the Oban Community Pitch. Back row, left to right: Derek Millar, Scott Buchanan, Alan MacLeod, Donald MacLean, Joe MacIntyre, John Horne, Duncan MacLean from Lochgilphead Soccer Centre,
Thomas Sharp, Peter Bain, Martin Rae. Front row, left to right: Gus MacPherson, Brian Forgrieve, David
MacCuish, Robbie Johnston, Kenny Campbell, George Easton and Mark Welsh. Missing from the picture is
Jimmy Jackson. Photo: Louise Lee, The Oban Times
---
Craig MacEwan gets the ball under control before getting a shot on target during the Centenary Cup semi final against Inverclyde played at Glencruitten on Saturday 29th September. Saints won the game 5-0.
Photos: John MacTavish. www.john-mactavish.co.uk
Saints Donald Campbell takes on his namesake Mark Campbell, the Inverlcyde full back.
Ouch! Alan Miller takes a sore one from Inverclyde's central defender Fraser Gunn. The big No 5 was booked for the tackle.
Craig MacEwan hurdles this challenge from Tommy McQuilkin.
Craig MacEwan takes on Rolls Royce defender James Kavanagh during the premier division game played at Glencruitten on Saturday 14th April, 2012. The Oban side ran out 5-1 winners. Photographs: Faith Orr, The Oban Times
Lewis Cameron strides foward with the ball.
The Saints defence can only look on and watch as Scott MacEwan's header lands up in th back of the net to make the scroe 2-1.
Craig MacEwan and Donald Campbell interchange positions.
Rolls Royce keeper Calum McSporran just gets to the ball in front of Saints striker Donald Campbell.
Chris Graham surges forward from midfield
Saints defender Marc MacCallum, who scored a wonder goal in the second half of this game pushes forward persued by Rolls Royce midfielder Paul Hughes.
Donald Campbell races into the Rolls Royce penalty box.
Wilie Gemmell clears the ball upfield.
---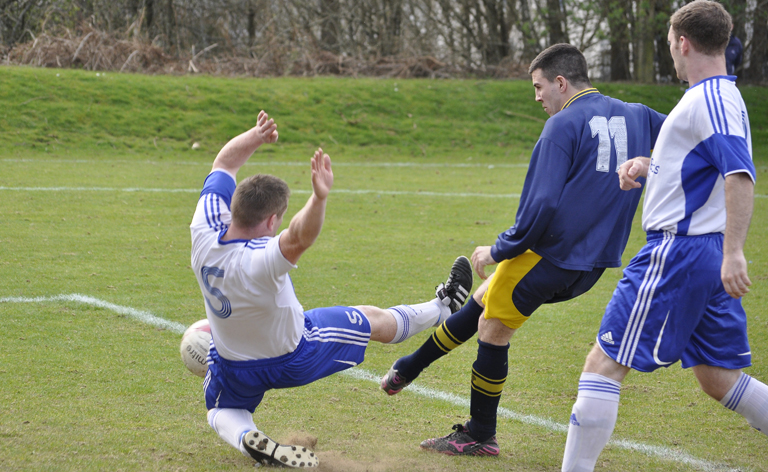 Donald Campbell scores the first of his six goals against Kilbowie Union at Glencruitten on Saturday 24th March, 2012. The Oban sdie ran out comfortable 7-1 winners. Photos: Euan Paterson, The Oban Times.
Willie Gemmell just fails to get his foot to the ball during a goalmouth scramble in the Kilbowie penalty box. Keith Millar is waiting to pounce if the ball runs his way.
---
Left: Determination on the face of Alan Miller as he jumps for a corner. Rght: Myles McAuley shields the ball during the SAFL Premier Division league match against St Joseph's FP held at Glencruitten on Saturday 17th March, 2012. A hat-trick from Donald Campbell gave the Oban side a 3-1 victory. Photos: Steven Flanagan, The Oban Times.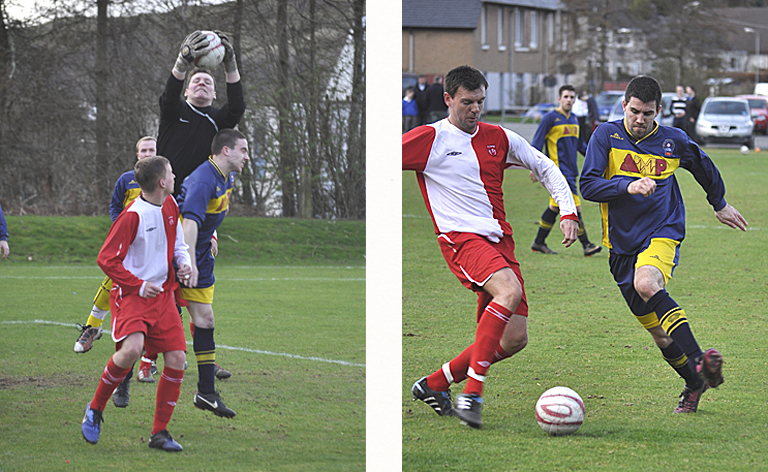 Left: St Joe's keeper Stephen Harkness collects this cross ball despite being under pressure from Saints defender Marc MacCallum. Right: Saints hat-trick hero Donald Campbell takes on St Joe's central defender Lee Halpin.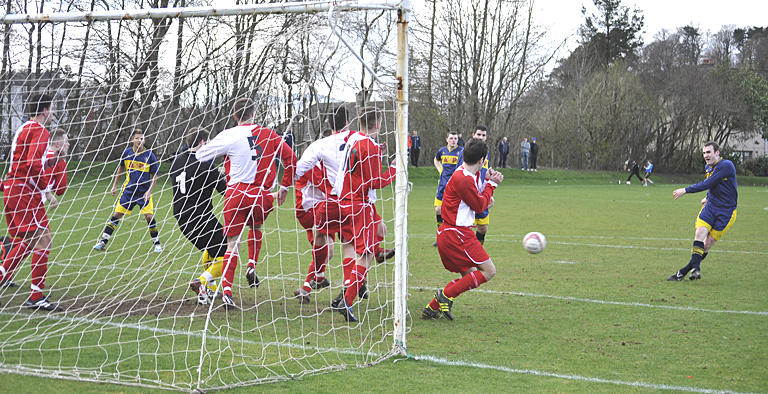 Willie Gemmell's free kick is blocked by the St Joe's wall.
Keith Miller, Donald Campbell and Lewis Cameron put the Knockentiber defence under pressure during their West of Scotland Cup 4th round tie, held at Glencruitten on Saturday 3rd March 2012. The Ayrshire side won the game 2-1 after extra time. Photos: Faith Orr, The Oban Times
Saints midfielder Paul Kerr (No 10) takes control in midfield.
Oops! Paul Kerr takes a tumble watched by Marc MacCallum.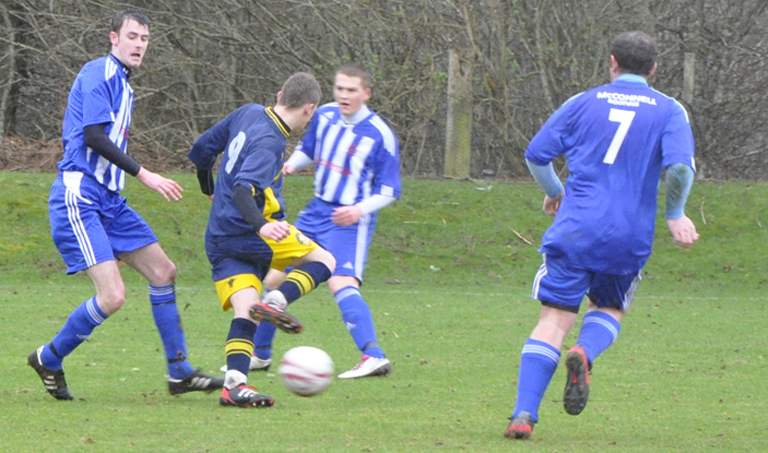 Lewis Cameron takes on three Tiber defenders.

Action in the Saints penalty box.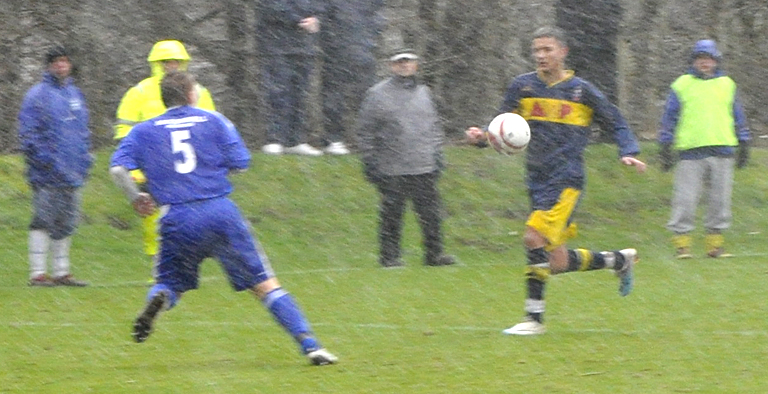 Alan Miller takes on a Knockentiber defender in the driving rain.
Some action shots from the Premier Division game against Thorn Athletic played at Glencruitten on Saturday 3rd September 2011. The game ended in a 1-1 draw. Scoring for Thorn was Gary Wilson with Craig MacEwan netting for Saints. Photos courtesy of Bear, Thorn Athletic
Fort William's Spanish goalkeeper Sergio Soto comes out to collect this high ball during the pre-season game with Oban Saints on Saturday 23rd July, 2011. The game ended in a 2-2 draw. Asen Gaydardzhiev and Allan MacKay scored for Saints with Sean Ellis netting a double for Fort William.
Photos: Peter Darling.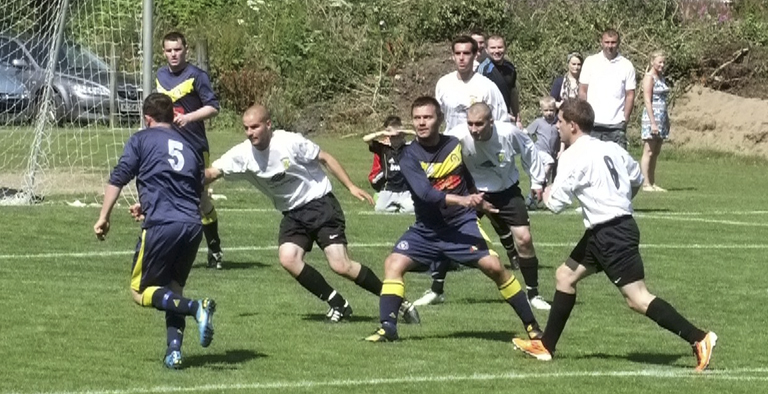 Saints put pressure on the Fort William defence.
Players challenge for the ball in midfield watched by referee Kevin Summers.
Ryan Campbell looks on as the Fort William defence head the ball clear.
Saints keeper Graham Douglas makes a brave diving save at the feet of this Fort William attacker.
---
Paul Kerr drills this low shot past the Greenock defence and into the net for Saints opening goal in the Oban team's 4-2 win over their old rivals at Glencruitten on Saturday 6th August, 2011. Photos: Stuart Laundy
Bulgarian striker Asen Gaydardzhiev wins this header against the Greenock defence.

The Oban side's central defender Alex Craik sees this shot blocked by the Greenock defence.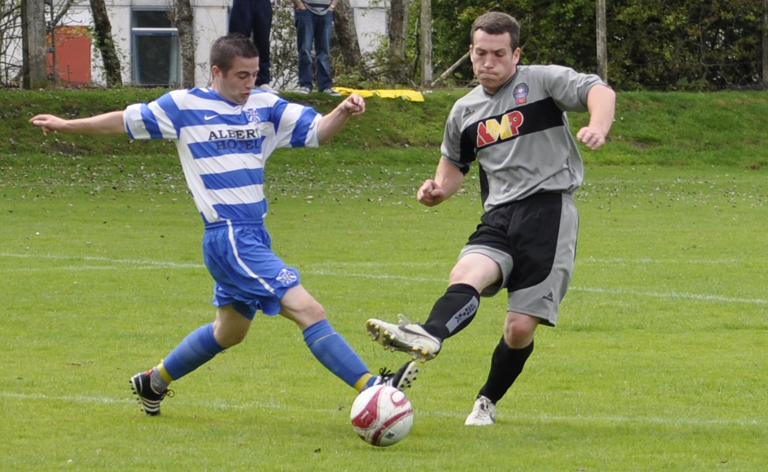 Saints new signing Ryan Campbell gets a pass away in midfield.
Photos from the Joe Paterson Memorial Trophy match played in Oban
on Saturday 9th June 2012
Left: Scottish goalkeeper Chris Connelly punches clear despite the attention of Argyll's James Prentice during the annual Joe Paterson Memorial match played this year in Oban. Right: Argyll goalscorer Gary Grumoli takes on a Scottish defender. The Scottish League team won an entertaining game 3-1. Photographs: Kevin McGlynn.
Left: Argyll defender Alex Craik toe-pokes the ball away from Scottish striker Mick Anderson. Right: High boot or low head? James Prentice takes on a Scottish defender.
Argyll defender Marc MacCallum and Scottish striker Mick Anderson were never far apart all afternoon.
Left: A Scottish player holds off Paul Grumoli and Chris Broderick. Left: Willie Gemmell moves in for a tackle in midfield.
Left: Scottish central defender Daniel McIllmun is helped by his keeper to thwart this Argyll attack from Gary Grumoli and James Prentice. Right: Argyll's young striker Gregor Peacok is muscled out of things by the strong tackling Scottish defence.
The Argyll Select.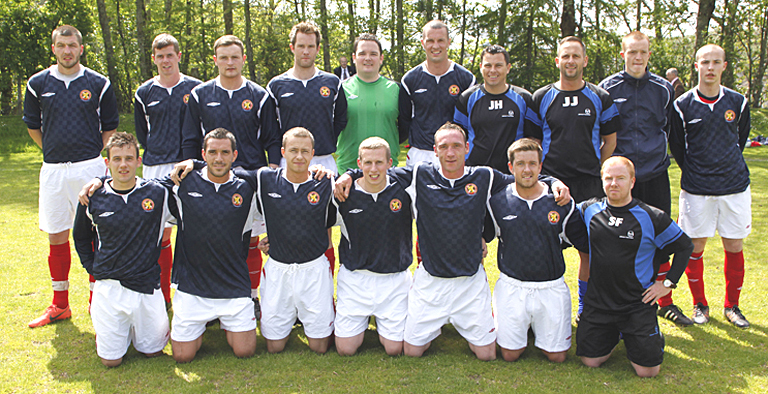 The Scottish Amateur League Select.
Action from the recent pre-season friendly between Oban Saints and Greenock held at Glencruitten on Saturday 4th August. The Oban side won an entertaining game 2-0. Photos: David O'Donnell.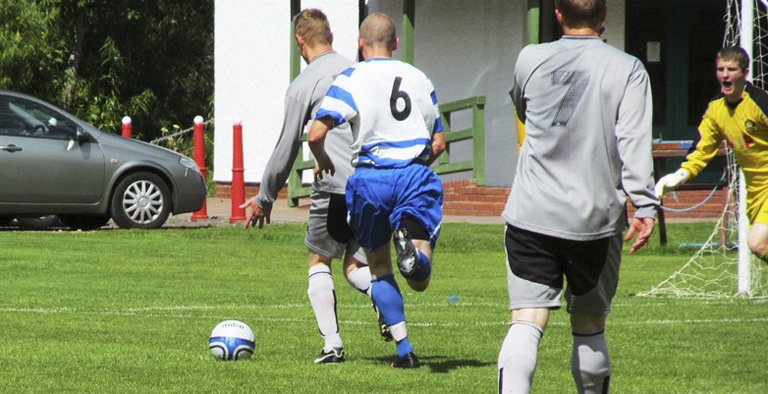 Saints defender Dene Cassells shields the ball from Greenock midfielder Jamie Bradley.
Saints players Keith Millar, Dene Cassells and Paul Kerr wait for for this free kick to come into the box.