Photos 2012/13
Oban Saints met Haldane United in the Jimmy Marshall Trophy semi final at McKenna Park, Govan on Wednesday 8th May. The Oban lads won an entertaining game 2-0. Our picture shows Saints keeper Daniel Cassells tipping this Haldane effort over the bar. Photos: Stephen Lawson.
Craig MacEwan gets a shot on target.
Myles McAuley surges forward.
No way through for Mattie Rippon.
Willie Gemmell contols the ball in midfield

Despair for the Haldane defence as Donnie Campbell celebrates his goal.
Saints lost 5-4 in a penalty shoot-out against Alba Thistle (after the game had finished 0-0) in the final of the Centenary Cup played at Millburn Park, Alexandria on Wednesday 24th April, 2013. Our picture shows goalkeeper Daniel Cassells making a brave effort to save this spot kick. The big Saints keeper saved two Alba penalties, but it still wasn't enough to see is team win the trophy. Photos: Stephen Lawson.
A determined looking Jamie Graham fends off the Alba striker.
Paul Kerr threads this ball through the Alba defence.
Myles McAuley is crowded out by a couple of Alba defenders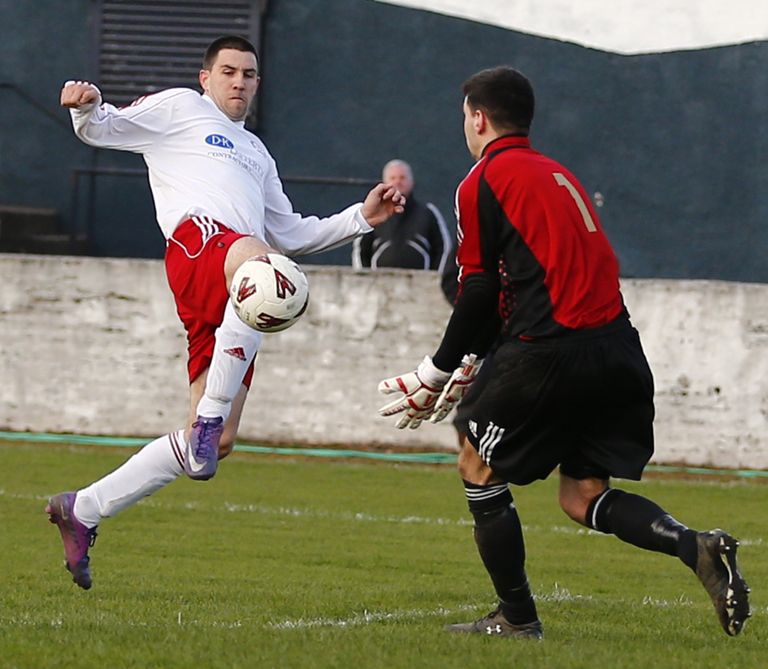 Donald Campbell tries to nick the ball away from the Alba keeper
This Alba defender shields the ball from Craig MacEwan.
A desperate lunge stops Dene Cassells in his tracks.
The Alba goalkeeper collects this cross watched by Craig MacEwan and Asen Gaydardzhiev.
Craig MacEwan takes on Postal United defender Keiran Martin during the Jimmy Marshall Trophy quarter final played at Glencruitten on Saturday 13th April. Saints won a close game 2-1 thanks to goal from Donald Campbell and Willie Gemmell. Photos: Euan Paterson, The Oban Times
Dene Cassells wins this aerial battle.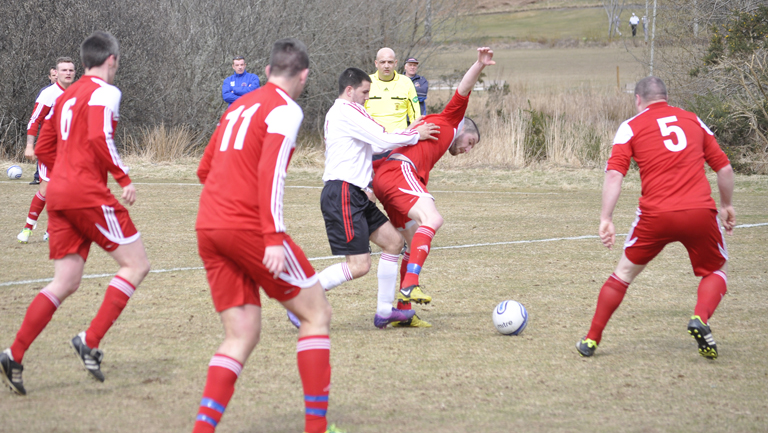 Donald Campbell is crowded out by four Postal players.
A last ditch tackle prevents Alan Miller getting a shot on goals.
Donald Campbell takes on Postal defender Chris Dunnett.
---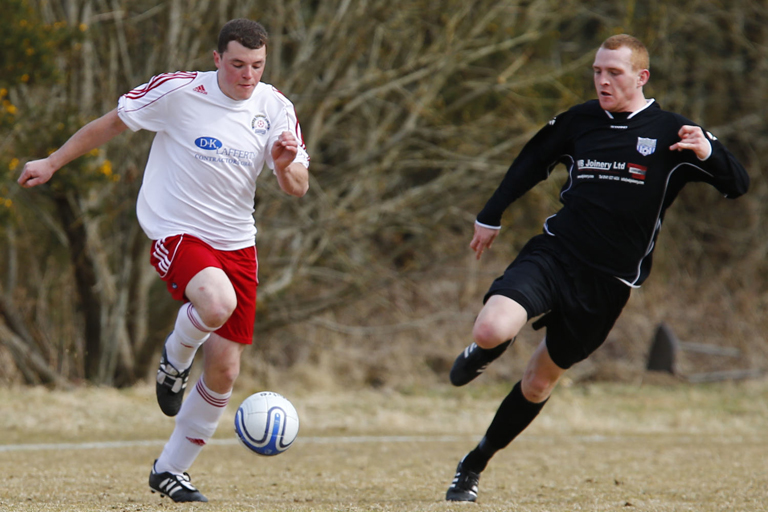 Myles McAuley takes on Castlemilk midfielder Alan Larkin during the SAFL Premier Division league game held at Glencruiten Park on Saturday 6th April. Saints won a close game 1-0. Photos: Stephen lawson
Alan Larkin is crowded out by Saints players Marc MacCallum, Mattie Rippon and Willie Gemmell with keeper Daniel Cassells ready to help out if need be.
Myles McAuley breaks away from this despairing tackle from Milk full back Barry Mooney.
Alex Watt gets a tackle in on Willie Gemmell as the Saints midfielder makes progress up the right wing.
Mattie Rippon is fouled by Jason Tominey which resulted in the Castlemilk player receiving his second yellow card of the match.
---
Pollok keepr Matt Lynch can only look on as Willie Gemmell's free kick flies over his head and into the net during the West of Scotland Cup third round match held at Glencruitten on Saturday 16th march, 2013. This was the only goal of the game. Photos: Stephen Lawson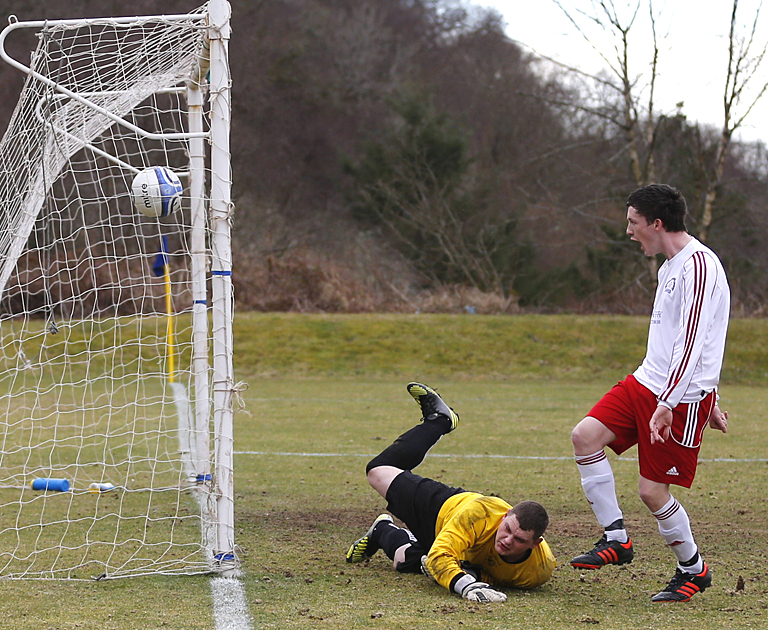 Craig MacEwan celebrates the goal.
Saints' Japanese striker Sonin Kurishita takes on Pollok's captain Scott MacLennan
Myles McAuley takes a tumble.
Craig MacEwan gets a volley on target watched by Sonin Kurishita.
---
Dene Cassells leaves this Cambusbarron player lying on the turf as he strides forward with the ball during the Fosters Scottish Amateur Cup match played on Saturday 16th March. Saints won an entertaining game 3-1. Photographs: Stephen Lawson.
Keith Millar in a midfield tussle during the recent match with Cambusbarron.
Jamie Graham shows determination as he clears his lines.
Mattie Rippon looks as if he's taken a sore one!
Craig MacEwan holds off this Rovers' defender as he breaks forward with the ball.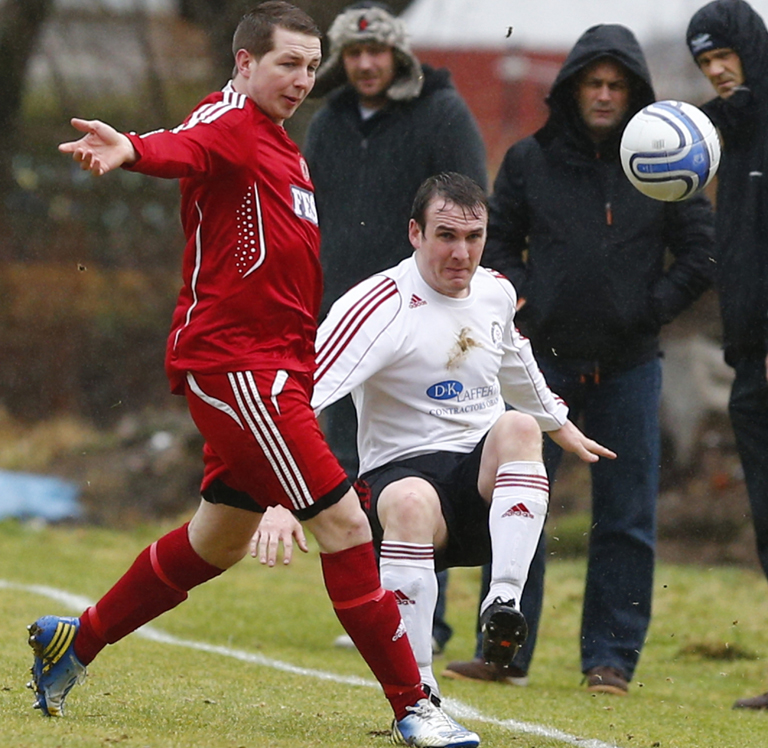 Willie Gemmell looks to be sitting down on the job.
---
Willie Gemmell curls a great free kick round the Inverclyde wall to open the scoring during the Premier Divisin league match between Inverclyde and Oban Saints played at the Battery Park, Greenock, on Saturday 12th January. Saints won 5-0. Photos: Stephen Lawson.
Keith Millar is sent crashing to the ground after this tackle by Brian McLaughlin which resulted in the Inverclyde player being shown the red car by referee Darren Murray. Willie Gemmell scored from the resultant free kick.
Donald Campbell (No 11) squeezes the ball home from an acute angle to give Saints a 4-0 lead.
Left: Dene Cassells heads this dangerous cross clear. Right: Donald Campbell takes on the Inverclyde defence
Left: Inverclyde full back Fraser Gunn holds off Craig MacEwan Right: Lewis Cameron gets his shot in despite this challenge from Michael Crawford.
---
Donald Campbell takes on John Jarvis during the SAFL Premier Division game held at Glencruitten on Saturday 5th January. The Glasgow side won a close game 3-2. Photos: Faith Orr, The Oban Times
Saints on the attack. Craig MacEwan, Myles McAuley and Donald Campbell attempt to break through a resolute Postal defence.
Donald Campbell slots home Saints' equaliser from the penalty spot after he had been brought down inthe box.
Paul Kerr and Alex Craik foil this Postal attack.
Postal defender Ally Brown stops Donald Campbell in his tracks with this tackle.
---
Lewis Cameron in action during the Jimmy Marshall Trophy match between Oban Saints and Port Glasgow OBU played at the 3G pitch at Oban High School on Saturday 8th December, Saints ran out 4-1 winners. Photos: Steven Flanagan, The Oban Times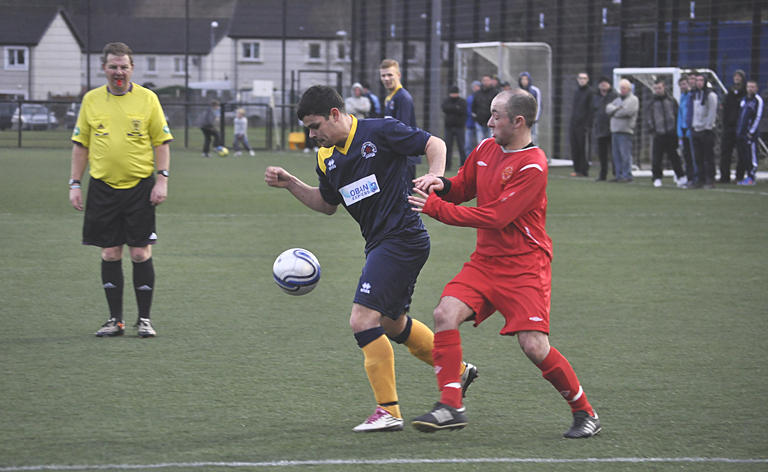 Referee Jimmy Litster keeps a close eye on things as Mattie Rippon wins the ball in midfield.
The Port OBU goalkeeper makes a good save with his legs from Keith Millar
Donald Campbell and Keith Millar make a break forward from midfield.
---