Champions 2009/10
OBAN SAINTS AFC
Scottish Amateur League
Premier Division
Champions 2009-2010
Congratulations to all the players, management and sponsors of the club for this magnificent achievement

The champagne corks pop as Saints celebrate winning the Scottish Amateur League Premier Division championship on Saturday 15th May, 2010.
Photographs by Kevin McGlynn and Peter Darling
Referee Alam Lamb has just blown the final whistle and the Saints players begin the celebrations.
The Saints management ream celebrate after the final whistle.
More celebrations.
Scottish Amateur Football League match secretary Robert Bowamn and league general secretary Robert Marshall get ready for the presentation.

Saints skipper Dante Lopez holds aloft the SAFL Premier Division Trophy
The champagne starts to flow.

Dante Lopez shows the crowd the Premier Division trophy.
Part of the big crowd who watched the match against Aikenhead which Saints won 1-0..
Left: Four-year-old Zander and two-year-old Daniel Craik pictured with their dad Alex. Right: Brothers Jamie and Ross Graham with Jamie's 13-month-old daughter Rubi.
Left: Robert 'Bertie' Gemmell with his three-year-old son Morgan. Right: Two-year-old Rhys Millar with his dad Keith.
Left: Scottish Amateur League match secretary Robert Bowman and general secretary Robert Marshall prepare to hand over the Premier Division championship trophy. Right: A delighted Saints skipper Dante Lopez finally gets his hands on the superb piece of silverware.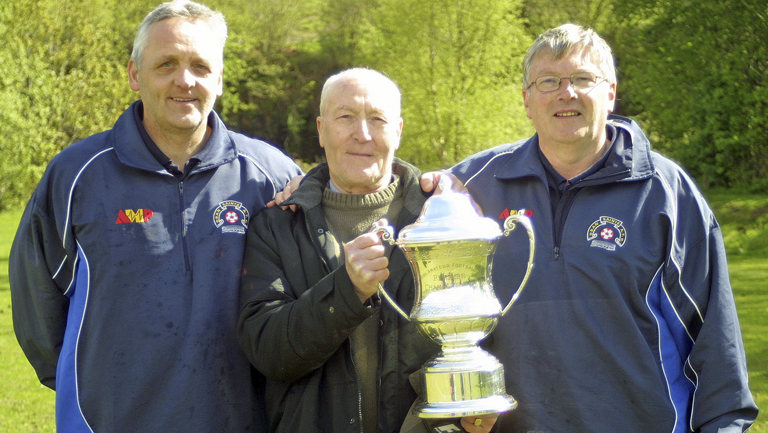 Saints No 1 supporter Iain Neilson pictured with team manager Iain Jackson and club secretary David Buchanan. Iain follows the team on a regular basis both at home and away. Iain Jackson said: 'We've been to some far flung pitches this season that sometimes take the team bus a while to find, but nine times out of ten Iain Neilson
is at the park before us - his support is much appreciated by the boys.'
Was it . . . or wasn't it? Donald Campbell goes down in the Aikenhead box, but referee Alan Lamb didn't give a penalty.

Let's not forget that Aikenhead Thistle contributed to a good game of football and although the Glasgow side
lost 1-0 they showed that they hadn't travelled all the way to Oban just to make up the numbers.
Some action shots of the game played at Glencruitten on Saturday 15th May, 2010.